This post is a part of a series about the hanging planes, entire series can be found
here.
-------------------------------
If I don't write about this station, than the series about this type of Gas/Service or filling station will not be fulfilled, because this is the first of such kinds.From that point of view, Elmer and Henry Nickle showed the way making gas station involving a plane,intended to attract the drivers, whether its hanged, concrete built or just resembled as a shape of a plane. Here is the story of the first one of such kinds:
Powell Airplane Service Station, Tennessee
The Heading is appropriate since 1960,at beginning it was a gas station, in 1930. The place is simply known as Powell Gas Station. The key fact of such fantastic architecture was that Elmer Nickle had a strong interest in airplanes, he played the major to influence his brother and to construct this station in shape of an airplane.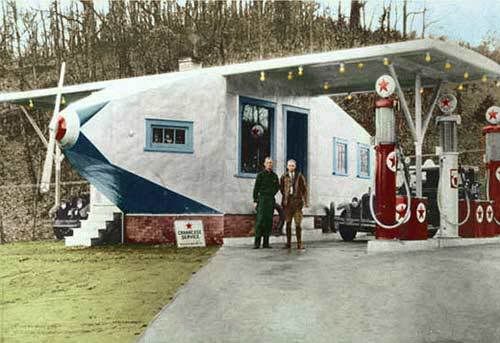 After 1960 it became a liquor store, than a produce stand and a tackle shop. Now it is using as a car lot. On March 18, 2004 this place is enlisted in the U.S. National Register of Historic Places. Beside the people of Powell have started an organization named,"Airplane Filling Station Preservation Association" and Knox Heritage (A Knoxville based organization) working to preserve the original architect.
.............................
Wiki | Road Side America | Fuel From Plane 1 & 2
Station Wagon Forum | Google Earth View