One of most proud institution of Dhaka University carrying a heritage of 85 years with many stories and historic events:
Background

Muslim population of British India, especially those who lived in the Eastern part of Bengal, were greatly deprived of the advantage of the facilities given by British Government during the Nineteenth and early twentieth century. With the Partition of Bengal in 1905 these Muslims became happy in anticipation that greatly-deprived eastern part of Bengal will get their share of development, but their dream was shattered after the prorogation of Partition of Bengal in 1907.
To pacify these frustration, the 'Nathan Committee' was constituted by the British Government. The committee recommended to establish a tertiary level educational institution for the people of the East Bengal in 1912. Considering the report submitted by Mr. Nathan, Calcutta University Commission took decision of establishing a residential hall based university and after much dispute, Mr. PG Hartog, took over the charge of Vice Chancellor of the University of Dhaka on 10 Dec 1920. Enrollment of students started from 10 July 1921.
As a part of Dhaka University
In the beginning, the journey of Dhaka University started with three halls (Salimullah Muslim Hall, Jagannath Hall & Dhaka Hall). In 1921-22 session, Salimullah Muslim hall started functioning with 75 residential students (according to another opinion 87) and 103 non residential students on the first floor of Dhaka Medical College. Ahmed Fazlur Rahman, Reader of History Department (Associate Professor), Ex-Faculty of Aligarh Muslim University (alma mater from Oxford University) was appointed as Provost of Salimullah Muslim Hall. The Present building of Salimullah Muslim Hall was inaugurated on 11 August 1931.
Spat and Facilities

:
The hall is established on a 12.91 acres of land including 75 thousand sq. ft. of garden. The main structure is a rectangular structure, resembling a fort, but without typical fortification. This two-storied building house 810 students. It has one dining room, one library, one auditorium with TV facility, one computer room, two reading rooms and one saloon.
In the Liberation war:
Salimullah Muslim Hall has also its involvement in the Liberation War of Bangladesh in 1971 too. It came to news headlines many a times after that. The Pakistani soldiers also attacked Salimullah Hall and Dhaka Hall. They beat up Salimullah Hall house tutor Professor Munim.

After the Liberation of Bangladesh, the then Government deleted the word 'Muslim' from its name to make it non-communal flavour in a resolution taken by the Syndicate of University of Dhaka in its meeting dated June 17, 1972 renaming of "Salimullah Muslim Hall" as "Salimullah Hall", and the consequent changes made in the Dhaka University Order 1973.
In Postage Stamp: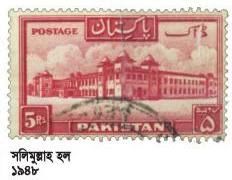 Even it took place in postage stamp, published in 1948 from the then
East Pakistan. The notable fact is - in Pakistan Period(1947-1971),Pakistan postal service published some 301 postage stamp, since the independence of Bangladesh . Some 30 stamps contained the phenomena from the then East Pakistan. Salimullah Muslim Hall was one those subjects.
Main site for more reading :
===============================
Salimullah Muslim Hall, Fooler Road,
University of Dhaka, Bangladesh
Phone :: 9661920-73 Ext-6320
Fax :: 880-2-8615583
====================